the smile you've always wanted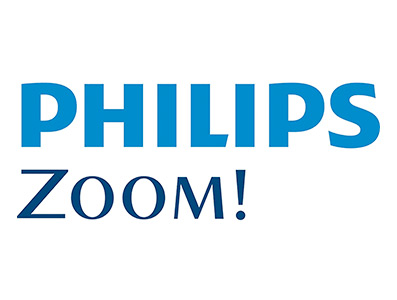 Zoom!
Take a first step in feeling good and looking great with brighter, whiter teeth in less than an hour. Zoom! teeth whitening is safe, effective and very fast, and performed only by a dental professional.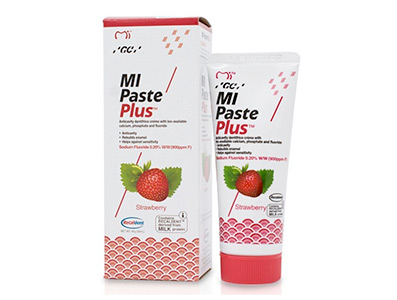 MI Paste
MI Paste is the only product for professional use containing the active ingredient RECALDENT™ (CPP-ACP), a special milk-derived phosphopeptide that binds calcium and phosphate to tooth surfaces, plaque and surrounding soft tissue. MI Paste is a water-based, sugar-free créme that is applied directly to the tooth surface or oral cavity. MI Paste with RECALDENT™ (CPP-ACP) restores the oral mineral imbalances that cause demineralization by replacing minerals while improving saliva flow and fluoride uptake as well as soothing sensitive surfaces.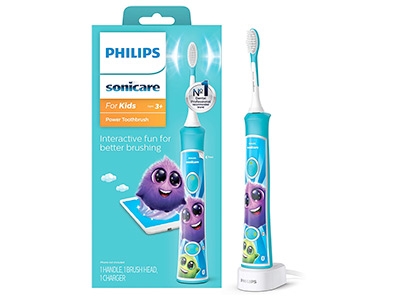 Sonicare For Kids
Increases brushing time slowly over 90 days, building towards the dentist recommended 2 minutes. Two kid-friendly power modes adapts to different ages providing a gentle cleaning that's ideal for different ages. There is a low mode for ages 4 and up and high mode for ages 7 and older. Two brush head sizes that are specifically designed to gently clean and protect teeth at key developmental stages.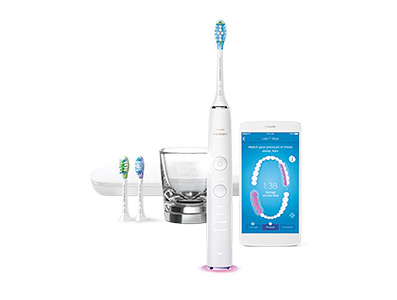 Sonicare For Adults
The Philips Sonicare DiamondClean Classic Electric Toothbrush provides offers 5 brushing modes and advanced brush head technology. By helping you improve your oral care, this toothbrush provides a superior whitening system and plaque removal.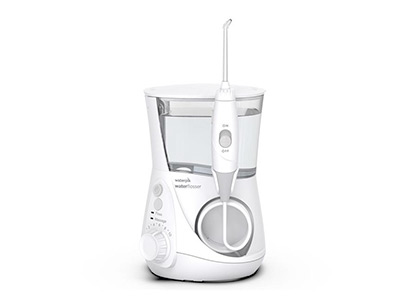 Waterpik
The advanced design of this compact professional model includes pulse-modulation technology for maximum plaque removal (Floss Mode) and enhanced gum stimulation for improved circulation (Hydro-Pulse Massage Mode). Removes up to 99.9% of plaque from treated areas and is up to 50% more effective for improving gum health vs. string floss. This model comes with 7 flossing tips, a convenient one-minute timer with 30-second pacer to ensure thorough water flossing of all areas, and a water on/off button in the handle that allows for one handed operation.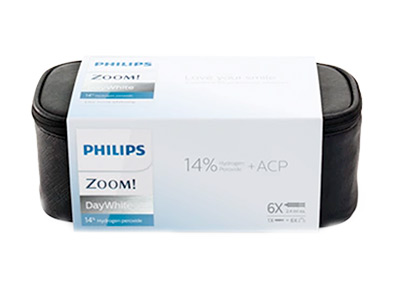 DayWhite by Phillips
The most dramatic results for a healthy, white smile. Philips Zoom DayWhite 14% Hygroden Peroxide is best for patients who want dramatic results and prefer to wear their trays for a minimal amount of time.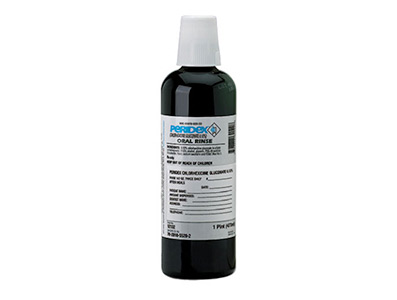 Peridex
A Chlorhexidine Gluconate 0.12% oral rinse for use between dental visits as part of a professional program for the treatment of gingivitis.
Provides antimicrobial activity during oral rinsing
Reduces certain aerobic and anaerobic bacteria from a range of 54-97% through six months use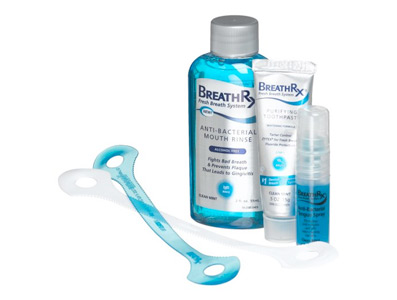 Tongue Scraper
Bad breath starts with the tongue-good tongue care starts here! Odor causing bacteria that hide deep in the crevices at the back of the tongue- the prime breeding spot for Gram-negative bacteria, creating odor-causing volatile sulfur compounds (VSC). BreathRx tongue spray, with Zytex, immediately starts killing the bacteria while BreathRx tongue scrapers lift these bacteria and food debris off the tongue. These kits are a great way to get your patients in the habit of proper tongue hygiene.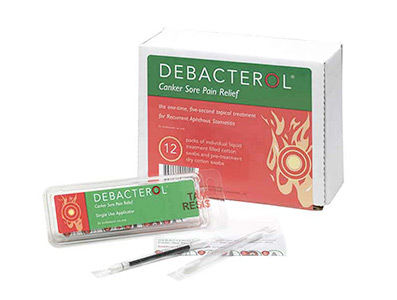 Debacterol
DEBACTEROL® is a liquid topical agent that is used in the treatment of ulcerating oral mucosal lesions. DEBACTEROL® is a liquid, topical, debriding agent used for treating ulcerating oral mucosal lesions, commonly referred to as canker sores, aphthous ulcers, or oral ulcers, as well as minor oral abrasions. DEBACTEROL® has unique chemical and physical properties that are particularly beneficial whenever a dental or medical procedure in the mouth requires controlled, limited debridement of necrotic or damaged tissues.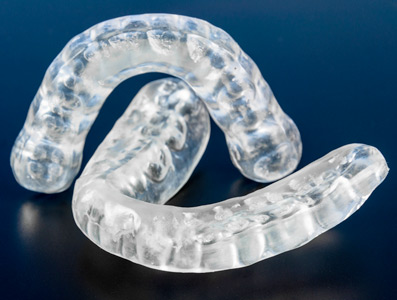 Occlusal Guard
Occlusal splints (also called bite splints, bite planes, or night guards) are removable dental appliances carefully molded to fit the upper or lower arches of teeth. They are used to protect tooth and restoration surfaces, manage mandibular (jaw) dysfunction, and stabilize occlusion or create space prior to restoration procedures. People prone to nocturnal bruxism, or nighttime clenching, should routinely wear occlusal splints at night.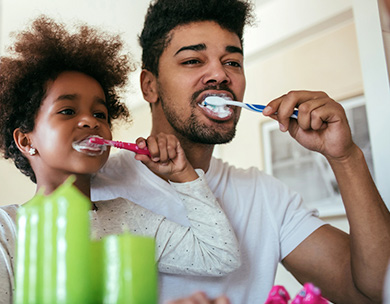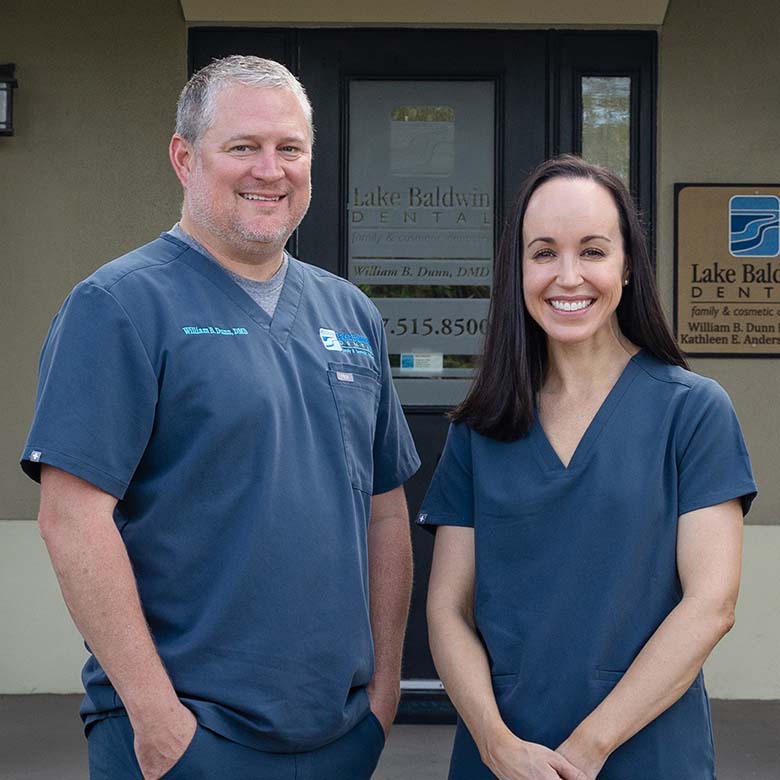 Meet Our Orlando Dentists!
Dr. William Dunn and Dr. Kathleen Anderson have created a dental practice that services both the cosmetic and traditional dental needs of their patients in a comfortable and stress-free atmosphere.