The thought of losing your teeth can be overwhelming and very discouraging. Whether you're already missing teeth or you're struggling with unsalvageable teeth, you may feel anxious about what the future has in store for your smile.
Fortunately, there are many ways to restore your smile so you can get back to living life to the fullest.
Dentures are an affordable, effective option that work for many patients. Let's take a look at what options you have for tooth replacement in Orlando, FL so you can make the best decision for your long-term well-being.
What Are the Different Types of Dentures?
When most people think of dentures, they think of teeth in a glass. But there are many different kinds of dentures, each with their own pros and cons.
Partial Dentures
If you're missing several teeth in a few areas, a partial denture can be an affordable way to fill the gaps. This removable option clips onto your remaining natural teeth to stay securely in place. A partial denture is also sometimes called a flipper.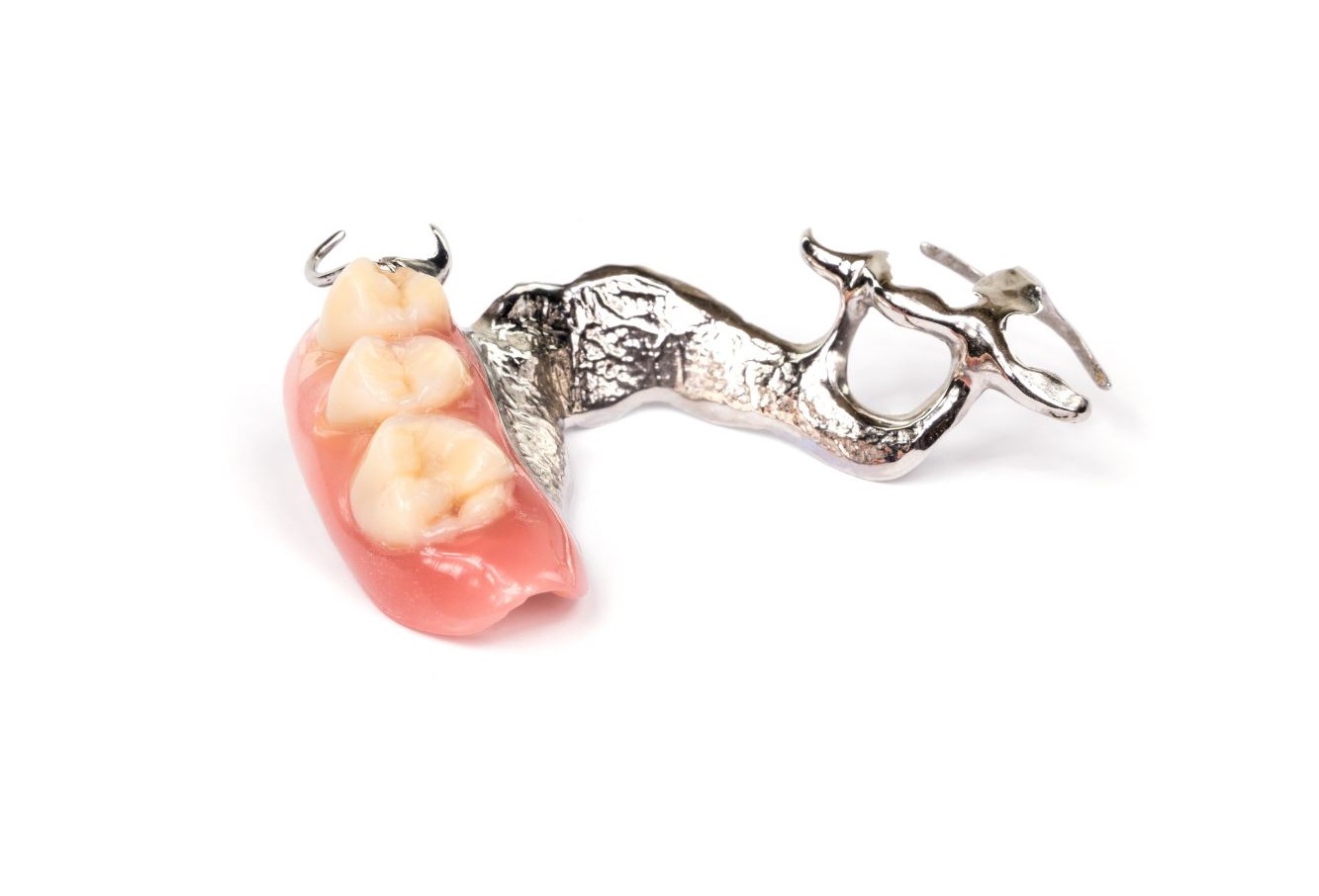 Pros
Very affordable.
Can be adjusted to add teeth in the future.
More tolerable than a full lower denture if you still have stable natural teeth that can be saved.
Supports surrounding teeth to prevent shifting.
Cons
Puts significant wear on your natural teeth over time.
Fit will change and become loose over time; not considered a permanent solution.
Does not prevent bone loss.
May not have great esthetics because metal structure is often visible.
We won't get into it here, but remember that there are other ways to replace one or several missing teeth in an area, including dental bridges and dental implants, which may be much more functional and sustainable for you.
Full Dentures
Traditional removable dentures can replace all your teeth with a beautiful prosthesis. Removable dentures are made from lightweight materials like acrylic. They sit over the gum tissue and are held in place with suction.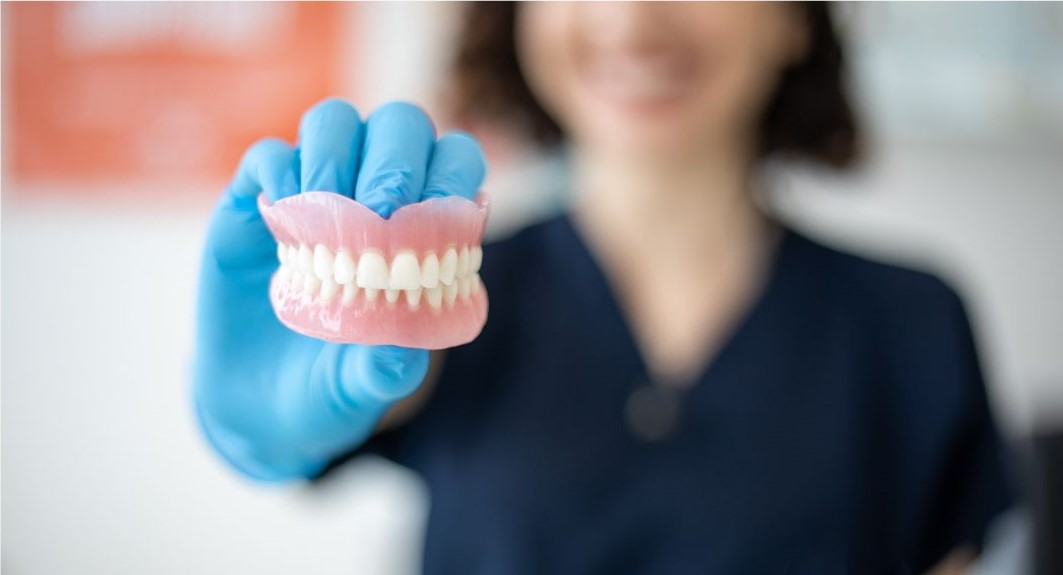 Pros
Affordable option for replacing all the teeth.
Beautiful esthetics so you can smile with confidence.
No surgery required (for example if you have medical issues that make implants inappropriate).
Faster than surgical options.
Cons
As bone tissue shrinks, fit will become loose, leading to shifting, rubbing, and loss of function.
Require sufficient saliva to stay in place with suction (dry mouth can be a problem).
Can't withstand full biting forces, which limits your food choices.
Require regular maintenance, adjustments, relines, and occasional replacement.
Implant Supported Dentures
Implant supported dentures are also known as hybrid dentures or Snap-On dentures. A few implant posts (usually just four to six), placed in strategic locations, give hybrid dentures strength and stability superior to traditional dentures, with the versatility to remove them for cleaning at home.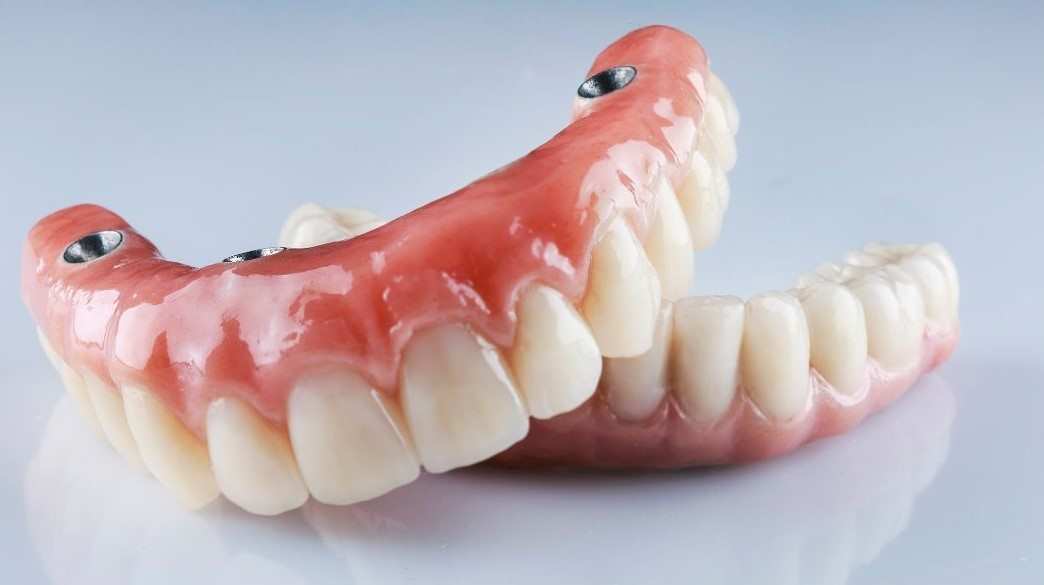 Pros
Enhanced strength and stability.
Much more functional; can eat a greater variety of foods.
Do not rely on suction to stay in place, so dry mouth is not an issue, and you won't need uncomfortable adhesives.
Prevent bone loss.
Do not need to cover the roof of your mouth; much more comfortable and won't interfere as much with speaking.
Can use superior materials for amazing, natural-looking esthetics.
Cons
Require implant surgery and waiting for implants to heal.
More expensive than non-surgical options.
Some functional limitation compared to full mouth dental implants.
Some parts, such as O-rings, may wear out over time.
Permanent Dentures
Also known as full mouth dental implants, this is as close as it gets to completely rebuilding your own full set of healthy natural teeth. Full mouth dental implants stay securely in place, anchored to just a few implant posts (usually about four to six) strategically positioned in the supporting bone. You won't need to take them out at night. Instead, your dental team will remove them at your regular dental health check-ups and deep clean them.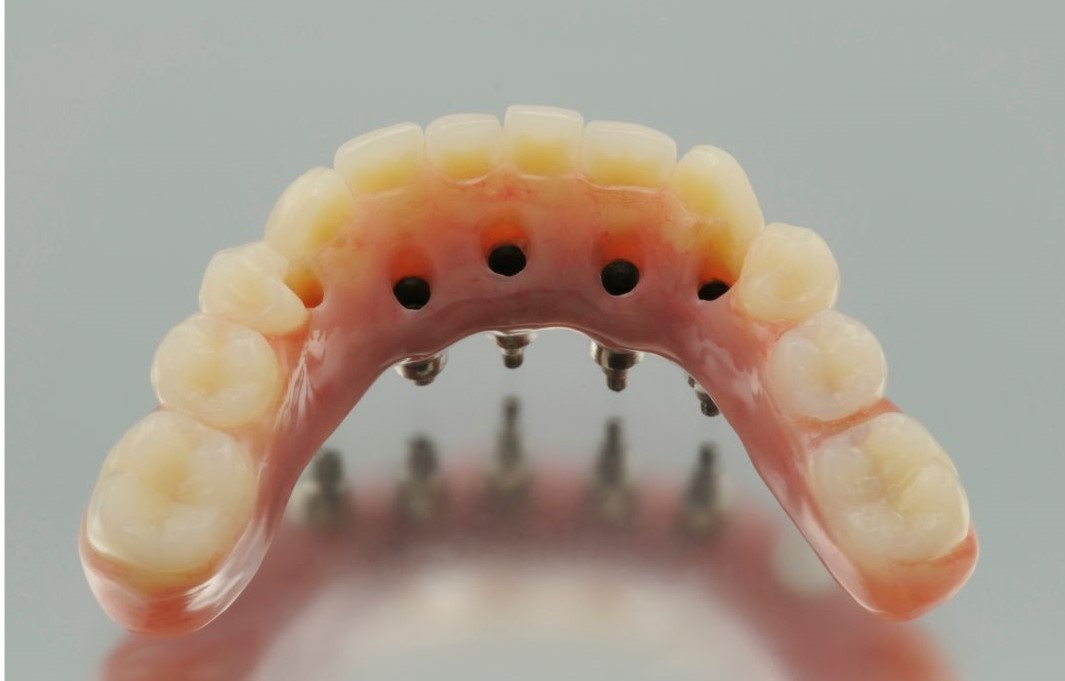 Pros
Restore 99% of normal biting function.
No limits to what foods you can enjoy.
Look and feel most like your own natural teeth.
Low-profile design won't interfere with ability to speak clearly or taste food.
Won't shift, slip, rub, or fall out.
Much less maintenance than traditional dentures.
Cons
Most expensive of any tooth replacement option.
Food debris may become stuck under your prosthesis and be hard to remove.
Plaque and bacteria can build up under your prosthesis.
May need special instruments like a rubber-tipped gum stimulator or WaterPik to properly clean under your prosthesis.
Requires surgery.
How Do I Know If Dentures Are Right for Me?
At Lake Baldwin Dental, your comfort is our priority. That includes helping you feel completely comfortable with your treatment plan!
It's essential that you fully understand all your treatment options so you can make an informed decision about how you want to go about replacing your missing teeth. Dr. Dunn and our whole team will always take the time to have honest discussions with you so you feel completely comfortable and confident that you're making the best choice for your budget and lifestyle.
Replacing your missing teeth is essential. Each tooth that goes unreplaced increases your risks for many health problems including cognitive decline and dementia.
Missing and failing teeth can also make it hard to smile with confidence and can affect your self-esteem. You may struggle to chew comfortably and find it hard to enjoy your favorite foods.
You deserve a strong, functional smile you love to show off! Talk to us about how we can rebuild a gorgeous set of teeth and help you get back to living your best life! Keep smiling, Orlando!