Have you ever gone to the dentist or orthodontist, and they put that huge tray of goop in your mouth to make a model of your teeth?
Everybody hates that. It feels like it's going down your throat, it pinches under your tongue, and when they take it out—did one of my teeth go with it??
Great news. Those trays are going the way of the dinosaurs. Today's dental technology can create high-precision 3D models, no goop required!
Let's take a look at how our 3D digital impressions could completely change your dental treatments forever!
Why Do We Need Impressions?
First things first, what is a dental impression, and why do we need them?
Dental impressions are how we build a model of your teeth, gums, and palate. We use these models for treatments like:
Dental crowns.
Bridges.
Porcelain or ceramic veneers.
Restorations for dental implants.
Orthodontic treatments.
Treatment planning for smile makeovers.
Traditionally, dental impressions involve biting into a semi-liquid material in a hard tray and holding onto it until the material hardens into a rubbery texture. This leaves a mold of your teeth and gums, which we can then fill with a hard plaster material to create a replica of your teeth.
But now digital impressions make it a much more comfortable process with more precise results!
We also use impressions to make appliances like night guards, sports guards, and custom teeth whitening trays. Unfortunately, some of these are still better served with old-fashioned impressions instead of digital impressions for the time being. Fingers crossed for the future!
Let's look closer at how digital impressions work!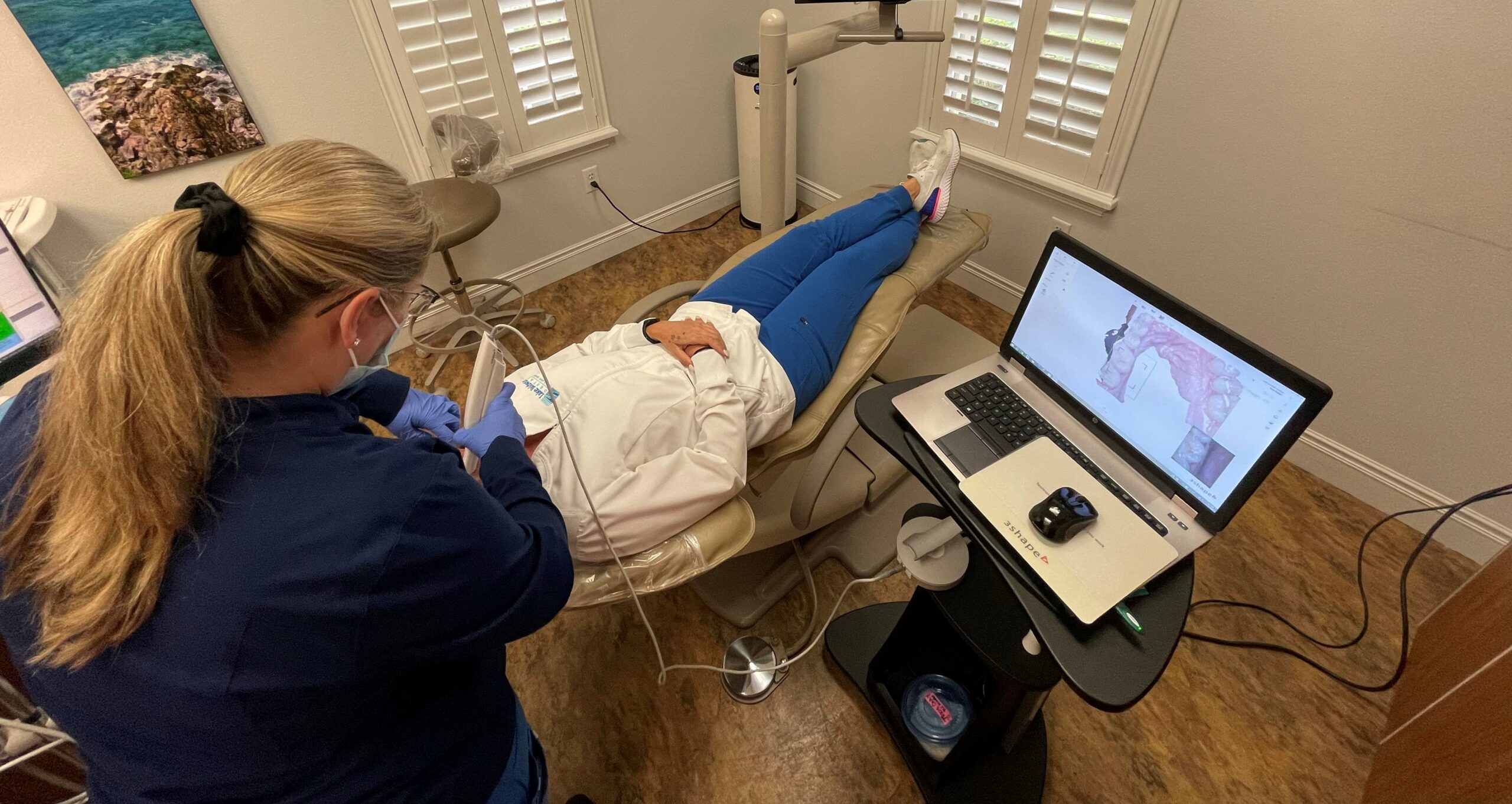 What Is TRIOS?
At Lake Baldwin Dental, we're proud to offer advanced digital impressions for most of our treatments.
TRIOS is an industry-leading intraoral scanner that captures hundreds of images of your teeth and gums and compiles them into a high-precision 3D digital replica. Unlike traditional impressions, we can tell right away if we have everything we need, adjust on the fly, and be 100% sure we have a great impression.
TRIOS doesn't just capture the shape of your teeth and gums. Your digital model will include the exact color of your gums and shade of your teeth as well as existing restorations and fillings in perfect detail.
That means we can design your restorations with an exact shade match to the surrounding teeth and design your cosmetic dentistry treatments with consideration for your skin tone, too!
We can then send your digital replica and smile design straight to the lab. There, it can be 3D printed to create a physical model. Our lab will use that model and our design to fabricate your gorgeous restorations.
How Do Digital Impressions Make My Dental Visits Better?
So that's what TRIOS is, but how does it make your dental visits better?
More Comfortable
First and foremost, TRIOS makes your treatment process more comfortable. Old-fashioned impressions are terrible. Personally, I've never met a person who looks forward to them.
With digital impressions, you won't need to fight your gag reflex to bite into those huge trays of goop. Instead, we wave a camera over each surface of your teeth and gums. It's fast, comfortable, and we can take breaks whenever you need.
More Precise
Have you ever seen a meme that's been reposted so many times it's a blurry, pixilated mess? Every time you make a copy of a copy, it loses fidelity to the original.
Same story with old-fashioned impressions and models.
We take your impressions.
We pour a model from those impressions.
We send that model to the lab.
The lab takes another impression from the models to create your restorations.
Every step leaves a lot of opportunity for tiny changes and inaccuracies that can turn into problems like poorly fitting crowns. When restorations don't fit as perfectly as possible, it leaves your restoration vulnerable to faster break-down.
With digital impressions, we capture the scans, and those files are sent directly to the lab. 3D printing your models directly from those digital files means your final restorations will have unparalleled precision for superior, lasting results.
 
Why Do We Use TRIOS at LBD?
At Lake Baldwin Dental, we're committed to always delivering the best dental office experience possible. We're always on the lookout for proven technology that can improve your comfort and outcomes.
Digital impressions are a slam-dunk to deliver on both of those promises!
We also understand that many patients struggle with dental anxiety, and fear of gagging is one of the major concerns that can make people avoid dental care.
We're proud to offer dental sedation when necessary. But simple changes like going digital for impressions let us eliminate a major roadblock to dental health for many people without the need for medications.
If you're ready to experience better dentistry, give us a call! Talk to us about how digital impressions in Orlando, FL can give you better dental health and a dream smile, comfortably. Keep smiling, Orlando!